I eat breakfast at McDonald's almost every day since I had come to Hong Kong.
The taste of McDonald's is the same as in Japan.
I am missing the familiar atmosphere so I have had a breakfast in McDonald's often in Hong Kong.
McDonald's in Hong Kong has a monitor for ordering and you can pay by credit card or Octopus card (Prepaid card) at the monitor.
A cash payee can also go to a cash register with a receipt after ordering. The monitor has the language selection menu between Cantonese and English, making it easier to order. As a corporate strategy, I thought that McDonald's is using digital devices more than manpower.
In some new McDonald's shops in Japan, there is a panel to check the number of your order, but I think that there is no such flow that you can order from the monitor. As a result, people working in the counter are fewer than in Japanese ones. It could be said that Hong Kong's McDonald's doing well at the point of reducing personnel costs.
However, the number of cleaning staff is larger than the Japanese one.
Because Hong Kong people leave the tray on the desk after eating, then the cleaning staff will clean up. I think that there was no staff who is responsible for just dispatching Japanese and American one.
What I enjoyed was that there was a bit of difference in the orange juice. The taste is similar, but because of the idea of Chinese medicine "too cold drinks are not good for the body", they do not put ice cubes in the cold Orange juice. Even if there is a temperature difference inside and outside of the cup, they seem to be using a material that can avoid drops of water.
Perhaps it was not intentionally designed, but it was a wonderful experience when I drank a cold Orange juice which is no dropping water from the cups.
McDonald's always indebted to me in Japan. Just going to McDonald's in Hong Kong to compare not only the taste and menu, I think it is interesting to focus on functional aspects such as how to order, clean up, and work for shop clerks and containers. Please try it!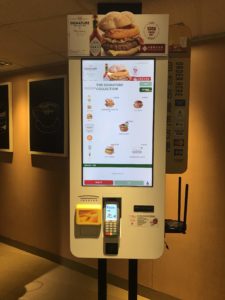 *
僕は香港に来て、ほぼ毎日朝マックです。日本でもよく行く安定のマックの味。慣れ親しんだ雰囲気が恋しくなり、アットホームさを感じながら朝を迎えています。
香港のマックは注文用のモニターがあり、クレジットカードまたはオクトパスで支払う人はそのモニターで支払いを済ませます。現金払いの人は注文後レシートを持ってレジに行くこともできます。モニターには広東語、英語の選択メニューがあり、とても注文がしやすくなっています。企業戦略として、人ではなくデジタルをうまく活用していると思いました。
日本でも最近できたマクドナルドの店舗はこのようにパネルとレシートの番号を照らし合わせる仕組みがありますが、モニターで注文する流れはあまりないと思います。結果として、日本のマックよりもカウンターにいる人が少なくなっているため、人件費削減というポイントではうまくできていると思います。
しかし、日本のマックよりも清掃係りの人数は多い。
なぜなら、香港人は食べ終わると机の上にトレーを置きっぱなしにし、清掃員が片付けます。日本のマックやアメリカのマックは片付けだけを担当するスタッフはいなかったように思います。
おもしろかったのは、いつも飲むオレンジジュースが少し違ったことです。味は同じなのですが、冷たい飲み物は体を冷やすとよくないという中国医療の考えのもと氷が入っていないので、コップが汗をかきづらいというのもあります。コップ自体がコップ内と外の温度差があっても水滴がつきにくい素材を採用しているように感じます。
もしかしたら意図的に設計されたものではないかもしれませんが、冷たい飲み物を飲むときにコップから水滴がポタポタたれないのは素晴らしい体験でした。
いつも日本でお世話になっているマクドナルド。ただ香港のマクドナルドに行って味やメニューだけを比べるのではなく、注文方法、片付け方、店員さんの働き方や容器など、機能面に着目してみても面白かと思います。ぜひトライしてみてください!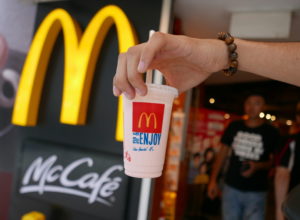 #朝マック #McDonald's #tastelikehome #habit #myfavorite #Iloveinit
#tya #hk #design #solution #upgrading #marketing #creative #advertising